About Phiten Yuko System Products
Yuko Hair Straightening was created in Japan in 1996 by Yuko Yamashita, a hair stylist and salon owner who wanted to make people's lives easier when it came to hair care.

As a young Japanese stylist, Yuko met countless women who were unhappy with their hair. The most common complaint was unruly hair that had to be constantly styled every morning and the mere suggestion of rain would make it frizzy and uncontrollable. Yuko wanted her customers to have beautiful, healthy hair without spending hours getting it that way, so she approached a Japanese sports, health and beauty company called Phiten. She worked hand in hand with Phiten to create
Yuko Hair Straightening, which has been taking the world by storm for over 10 years.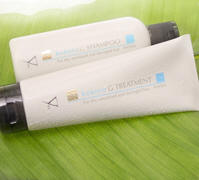 This special straightening process utilises collagen, keratin and silk proteins which penetrate the hair follicle. A hot iron promotes heat oxidisation to leave hair smooth, radiant and manageable with minimal effort. Yuko is the original and leading hair straightening system. It has even been granted a patent in the United States. In Japan Yuko Hair Straightening is used in over 35,000 salons. It has also spread across the world and there are now more than 600 salons in the UK using it simply because it provides the best possible base for your hair. It creates truly healthy looking hair and provides an ideal foundation for any style. YUKO provides professional products as well as education and training to hair stylists from all over the world. Our aim is to deliver truly beautiful hair through exceptional service.
---
Phiten Yuko System Products
Guaranteed Softer, Shinier, Smoother Texture marks the difference in YUKO's quality
YUKO's patented system continues to be the brand of excellence not only in hair straightening but also in the finish of completely re-texturized hair. The G-CREAM Series delivers an enhanced moisturizing effect and with added control in the application, allows efficiency in the process that virtually eliminates hair damage.

YUKO PRIMER KIT FOR RE-VITALIZING THE HAIR
DEEP CONDITIONING DURING COLORING THAT'S EASY TO USE
1. YUKO Primer brings out the expected shade and retains the radiance
2. YUKO Primer prevents damage and deep conditions while coloring
3. YUKO Primer re-vitalizes the hair to a silky smooth and lustrous finish